to WiNC Technology! I would like to personally thank you for your visit. What is WiNC you ask? Well, WiNC stands for Web, internet, Networking, and Computer Technology.
Being a small company, we provide our customers with personalized service at a reasonable price. If you are tired of lugging your heavy computer to the nearest shop and having to pay over $150 to fix it and then try to figure out what plug goes where when you get it back, look no further! We provide in home service at no extra charge!
Please browse our site and see what services we can provide to you.
We strive for quality in the service we provide. As a customer, you should expect to have the job done quickly and efficiently; whether it be as simple as turning off the caps lock, or as complicated as restructuring a large database. You will always find a friendly staff with us.
Thank you and have a wonderful experience!
Austin W. Hider
Owner
WiNC Technology LLC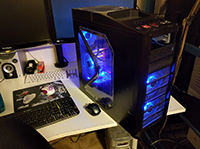 Services we offer include:
PC/Mac Repair
Virus/spyware removal
Home and office networking
Server setup/configuration
Web design & hosting
Call (405)367-9821 or contact us to schedule an appointment today!